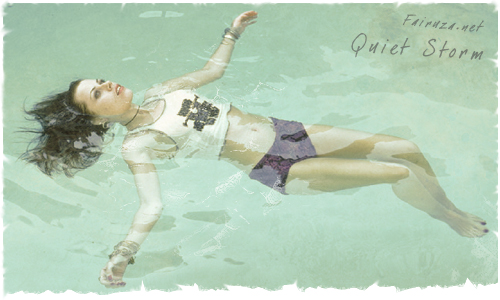 Trivia
The origin of Fairuza's name
"As I was being born my father claims that he was playing his fiddle/violin to soothe my mother and when my head came out he says that I looked right into his eyes and that my eyes were the color of electric turquoise and in Persian the word for turquoise is Fairuza, it also means Sacred or Precious One… don't ask me…"
-Fairuza
Fairuza…
…was born at 3:00AM (PDT)
…is of Persian and Romany heritage, and has some Irish ancestry
…plays the guitar, fiddle and the piano
…is dyslexic
…has nine tattoos and a nose ring
…loves to dance
…hates breast implants
…was once ranked #88 in Stuff Magazine's "102 Sexiest Women in the World" (2002)
…played a vampire in a ZZ Top video
…has owned Panpipes Magickal Marketplace, an occult craft store in California
…likes to listen to punk, industry and rock
…likes to read (amongst others) William S. Burroughs, James Joyce, Oscar Wilde, Carl Jung, Isabel Allende, Mikhail A. Bulgakov, Ernest Hemingway, and Honoré de Balzac
…likes to belly dance. She did this on film in The Island of Dr. Moreau
…has five cats, called MoMo, Scout, Oscar, Sweetpea Poteet Tennessee and Mouse.
…shares her name with irish band Fairuza
…has been romantically involved with Marilyn Manson and David Thewlis
Fairuza's Tattoos
(Taken from Fairuza.com)
Her first tattoo is on her stomach low down just above and to the right of her "family jewels," and is of a crescent moon with a face. She got it at 13 to commemorate her dedication to the moon, who she has always felt a great kinship with, that of a sister, guide or mother almost.
Second was a sun that she got directly opposite her little moon because she feels what is existence without polarity. She got it all done without even knowing the literary or traditional significance of the two.
Her third tattoo was on her left hip, which is a heart encircled with thorns that is winged and at the top is the goddess symbol of the full moon (dark) with the two crescents on either side and a wall of fire behind it (one of her favorites).
Her fourth tattoo, which she got when she was young, is an anarchy symbol with the radioactive symbol around it, and has since been massively transformed into Lilies with a pentagram in the middle of really quite delicate tribal black work.
The fifth tattoo is the one on her lower back which is Sanskrit for Ohm mane padme hum which is in part a dedication to her mother who had her christened a Tibetan Buddhist and also because of the meaning of the word.
The sixth tattoo is the band on her right arm which is a design of hooks that go in and out of her arm in a kind of art deco pattern.
The seventh tattoo is the Blue Triangle outlined by black which is the sign the nazi's put as patches onto the clothes of the gypsies in the war camp and she got it to commemorate her heritage.
Her eighth tattoo is two cats with intertwined tails on the back of her shoulder to commemorate her two babies who sadly left this earth this last year.
And finally, her ninth tattoo, is on her ankle and is Chinese script for the year of the tiger which is her Chinese astrological birth year and the script for the spirit of the heart.
Sources
Comments are closed.