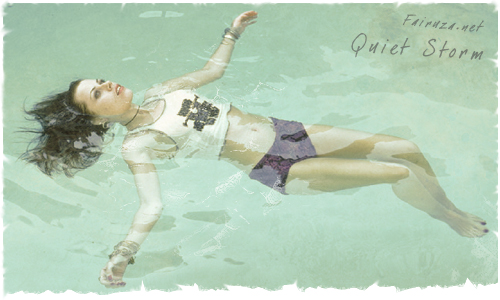 Biography
Name:
Fairuza Alejandra Balk
Nickname:
Ru
Place of Birth:
Canada
Date of Birth:
May 21st 1974 (3a.m.)
Star Sign:
Gemini
Hair:
Dark Brown
Eyes:
Turquoise
Height:
5'3″
Mother:
Catheryn Balk
Father:
Solomon Feldthouse
Favourite Authors:
William Burroughs, James Joyce, Isabelle Allende, Michael Bulgakov, Jung, Oscar Wilde, Ernest Hemmingway and Balzac.
Favourite Artists:
H.R.Geiger, Egon Scheiele, Gustav Kilmt, Vargas, Tamara De Lempicka, Rosseau
Favourite Movie:
Breaking The Waves (she is also a fan of Italian movies, and loves horror films (though she isn't so keen on reading horror.))
Favourite Bands:
The Germs, Dead Kennedys, Black Flag, Circle Jerks, Ministry, Frontline Assembly, Front 242, Butter8, Radiohead, Blur. (But she mentions that she has a wide range of tastes when it comes to music, and loves all different kinds.)
Drives:
Caddy and a Honda Rebel 250 motorcycle
Pets:
Oscar, Momo, Sweetpea Poteet Tennessee, Mouse and Scout (all cats.)
Other Interrests Include:
Writing poetry and stories, playing guitar and piano, singing (this being her favourite past time) and also she loves to dance.
Fairuza Balk was born on 21 May 1974 in Point Reyes, California, USA as Fairuza Alejandra Balk. It was her father who screamed out "Fairuza!" when she was born. The names meaning, which is turquoise, mirrors Fairuzas wonderful light-blue eyes. "…When my head came out he says that I looked right into his eyes and that my eyes were the color of electric turquoise and in Persian the word for turquoise is Fairuza, it also means Sacred or Precious one…" With dear friends and family she often goes under the nickname of Ru.
Fairuza grew up in the north of San Francisco on a commune-type ranch. Her mother was a belly dancer and father a musician. The influence of growing up with creative performing parents is evident in Fairuza because she dances, plays the guitar, sings and, of course, acts. Her first acting role was in Vancouver where she and her mother had moved during the same year, on the ABC special The Best Christmas Pageant Ever in 1983 when Fairuza was only nine years old!
Two years later, at the age of eleven, Fairuza and her mother moved to England where Fairuza attended to the Royal Academy of Ballet, the Ramona Beauchamp Agency and the Bush Davies Performing Arts School. Fairuza began working in Disney productions and in 1985 was she chosen from out of 1, 200 girls to play the famous part of Dorothy in Return to Oz. Continuing working with Disney, Fairuza was cast in The Worst Witch, Discovery, and in Deceptions.
Fairuza stayed in London until 1988 when she and her mother moved to Paris, France and Fairuza got a part in Valmont. A year later they went back to Vancouver and Fairuza attended high school there. In the early 1990s, Fairuza moved back to Hollywood and starred in several movies, for example Gas Food Lodging in 1992, Murder in the Heartland in 1993, Imaginary Crimes in 1994 and Things to Do in Denver When You're Dead in 1995. She even recieved an Independent Spirit Award for Best Actress for her role in Gas Food Lodging and that's a great start for the 18-year-old girl. Fairuza continued to score remarkable roles as what some call outsiders – "I'm beginning to get pigeonholed as the girl who plays the crazies and weirdoes – and that's not the entirety of who I am. Hopefully, the whole point of being in this profession is that you change into anyone you want to be." And her most famous role is in the 1996 movie The Craft in which Fairuza plays a teenage witch together with Neve Campbell and Robin Tunney. The movie has received almost a cult status and if you mention The Craft you can be sure that everyone remembers Fairuza!
The same year appeared Fairuza in the movie The Island of Dr. Moreau where she got to practise her mothers profesion as a belly dancer, and not only that – she also met her then England-born boyfriend David Thewlis. They enjoyed working together and made two more movies together – American Perfekt in 1997 and Great Sex in 2000.
In 1998 she was choosed by Adam Sandler to play one of his girls in the movie The Waterboy. Fairuza portrayed a girl who ate crocodiles and was the love interest of Adam's character. She also appeared in the most acclaimed movie of the year, American History X but had hard time relating to her character – "It's just not part of who I am to hate black people or Mexican people, so instead of trying to develop that, what I did – and this will sound bizarre – was use my hatred for racists or people who kill gay men just because they're gay. I mean, there are people who beat other people up because they don't like what they're wearing." But she did a remarkable job as a nazi-girlfriend to Edward Norton and the movie even received Oscar nominations for Best Movie and Best Lead Actor.
Playing a rockband-groupie in Almost Famous in 2000 and a woman who had run away from home and got pregnant in the 2002 movie Personal Velocity, we can look forward to see many more great performances from Fairuza! Coming soon is the much talked-about movie Don't Come Knocking with Sarah Polley, Sam Shepard and Jessica Lange in which Fairuza plays the girlfriend of Gabriel Mann. And Fairuza will play a mother for the first time in the upcoming movie Wild Tigers I Have Known, which she was nervous about and not sure if she could handle it but rumour says she handled it more than well!
Fairuza currently lives in Venice, California and also has her own appartment in New York. She says that she will always have a place somewhere in California because she thinks of it as home. She has her nose pierced and the number of nine tattoos; one is a triangle tattoo because the Nazis in World War II branded the symbol on the gypsies in the concentration camps. She who is of Persian and Gypsy heritage says it's her way of paying respect to her culture and remembering the suffering that her ancestors endured.
Rumour says that she's dating Steve Gilmour who is the son of David Gilmour from the legendary band Pink Floyd, we wish her the best of luck with her career and life and that she gets lots of love because as she says – "I want love, because love is the best feeling in the whole world."
Comments are closed.